Principal
Mr David Stonestreet M.Ed Lead, BMus Ed.
David began at Shire Christian School in the 1990s as a music teacher, subsequently becoming Head of Music and then Head of Creative Arts. Pursuing his interests in leadership, curriculum and technology, David joined the executive team in 2004 as the school's first Director of Studies. He has since served in a number of senior roles in the school, including as Deputy Principal. David was appointed Principal in June 2022. He is married to Elissa (also a teacher) and they have two children, both former students of Shire Christian School, Bonnie and Eric. They live in the Shire where they attend an Anglican Church.
Deputy Principal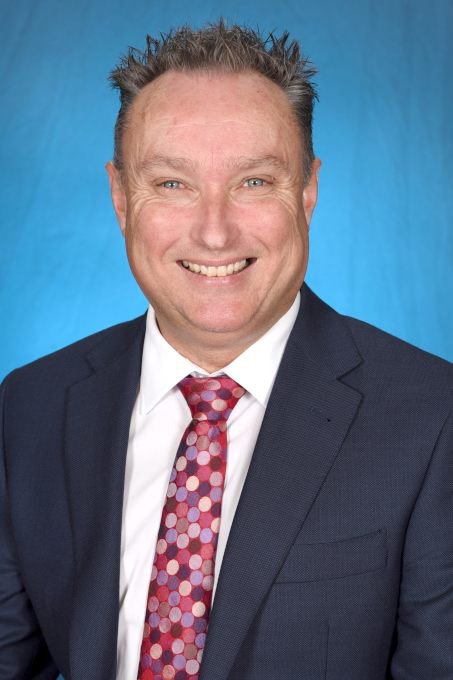 Mr Paul Carter Dip Teach, Grad Dip Christian Ed
Paul began his teaching career as a part time casual teacher/part time Scripture teacher in public schools in the Greenacre area. He then spent 12 years teaching all grades from 1-6 at Greenacre Baptist Christian Community School. Paul started teaching at Shire Christian School in 2005, was a Stage Coordinator for several years and was Head of Junior School from 2011 until 2022, before being appointed Deputy Principal. Paul is married to Leanne and they have two adult daughters, Susanna and Emily.
Academic Head
Mrs Natalie Bluhdorn M.Ed Lead, M.Teach, BA
Natalie joined our teaching staff in 2003, beginning as an English teacher, then Head of English and most recently as the Director of Teaching Practice. Her role as Academic Head covers curriculum and assessment and supports teachers to develop and refine their teaching practice, which will then enrich and strengthen student learning and achievement. Natalie reinforces her pedagogical knowledge by remaining connected to current research whilst lecturing at the University of Sydney in English and Education, where she is also completing her Doctor of Philosophy. Natalie attends a Baptist church, is married to Tim and has three children. She is interested in teacher excellence and professionalism, particularly how this manifests in a Christian School.
Head of Junior School
Mrs Ruth Cooper B Education (Primary)
Ruth joined our Junior School teaching staff full time in 2019. She was previously working part time at William Carey Christian School and took up regular casual teaching opportunities at Shire Christian School. Ruth began her teaching career at Broughton Anglican College in 2001 where she taught a variety of grades. Her passion for leadership, pastoral care and teacher mentoring has seen Ruth embrace a variety of roles including Sports Coordinator and Prep to Year 2 Coordinator. She is dedicated to creating firm foundations in early learning through the biblical lens of the gospel. Ruth is married to Stuart, who is also a primary teacher, and has 3 children. She loves to bushwalk, kayak and spend time with her family outdoors. Ruth enjoys serving at her local church in Barden Ridge in varied ways, particularly her role in women's ministry.
Head of Secondary School
Mr Peter Richardson M.Ed Lead, BHlthPhy Ed
Peter joined our teaching staff in 2013 as a PDHPE and Christian Studies teacher and has since lead in a number of capacities including as a Year Coordinator and, in recent years, as the Head of Sport. Peter has a relational approach to student and staff wellbeing and is passionate about investing time and energy into the lives of Secondary School students as they navigate their way through adolescence. He is married to Megan and has four young children. They live just south of Wollongong and attend and serve in a number of ways at Figtree Anglican Church. An avid sports fan, Peter regularly runs crazy distances, gets addicted to watching cricket on TV and plays competitive soccer.
Business Manager
Mr Peter Watters CPA, M.Prof.Acc, BCom (Econ)
Peter commenced his role as Business Manager for the school in December 2013. He is an experienced and knowledgeable accounting professional with a passion for business process improvement and well-implemented systems and technology. Before coming to the school Peter worked in a variety of commercial roles – as finance and administration manager for a software developer specialising in fleet automation, and as general manager for the Australian branch of an architectural building products company. Peter has been a Christian since childhood and is married to Michelle who works as a team leader for aging, disability & health courses at TAFE. They have three adult children.